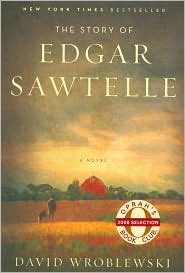 I normally stay away from any and all things "Oprah". Had I known that this was an Oprah Book Club selection, I might not have asked for this for Christmas. But, it got great reviews and was set in rural, northern Wisconsin. Since we recently purchased land in northern Wisconsin, I was interested.
This is a long book (560+ pages) and is rather slow. Not boring slow, but slow. It held my interest through-out, whether in the description of the training of the dogs they raised, the bond between mother and child, the bond between child and family "pet", the description of life in a remote setting, the portrait of the landscape and sounds and smells of that part of Wisconsin.
I had read a blurb somewhere that the author has been approached to write a sequel; sadly (I thought), I read this before I had finished the book. So I was somewhat (though in a strange way) pleasantly surprised at the ending. In what way the author would write a sequel is enough to ensure I check it out if in fact he writes one.
I think both of my fellow contributors would love this book, if for no other reason than being dog lovers/owners. The setting in the NW part of Wisconsin should be familiar enough to Stephanie; for Scooter, well no guns, but lots and lots of dogs.